As pet parents, it's your responsibility to look after the diet of your pet. because they can not identify which food is best for them. Do not neglect their diet, as this can cause severe issues in their bodies, like obesity and diabetes. If you want your dog to be healthy, happy, and safe, then you should give them a delicious as well as a balanced diet that contains all the nutrients. Low Calorie Dog Treats are the best option for your dog, as they keep your dog healthy and they have a great taste too.
These low-calorie dog treats are fully natural and of high quality, which means they are free from preservatives, added flavor, color, and texture.
If your dog is slightly chubby, then you can also give your dog treats that are low in calories. But make sure these treats contain 10% of your dog's diet.
If you give your dog treats, you must reduce the calories in his meals to keep his diet balanced.
To keep your dog's figure slim and avoid health problems, increase their activities while decreasing the calories in their diet.
When you are shopping for low-calorie food for your dog, you must check its ingredients, size, texture, and calories.
In this blog, you will read about low-calorie dog treats that will help in maintaining your dog's health.
The Advantages of Low Calorie Dog Treats:
If you feed your dog with low-calorie dog treats, then it will protect your pet from allergies.
The dog treat helps in maintaining the health of your dog by keeping its figure slender.
It does not contain any kind of added flavor, taste, preservative, or texture.
These treats will keep your dog healthy, and they are delicious too.
It gives many benefits to your pet, from dental health to weight management.
What should you look for while selecting low-calorie treats for your dog?
First, look at your dog's needs. If your dog has a medical condition, such as an allergy or sensitivity, in this case, consult the veterinarian and ask him what is best for your dog. And also consider whether your dog is big or small while selecting low-calorie treats.
If you are selecting treats for dog training, you must see that the treat does not distract your dog from learning.
After choosing the purpose of the treat, you should look at the characteristics of the treat. There are two types of treats available on the market, i.e., premium treats and poor dog treats. From their labels, both look good for your pet, but in reality, one treat is digestible and provides proper nutrients to your dog, and the other is non-digestible and contains added flavor and preservatives.
Look at the provided information on the label of dog treats like ingredients, guarantee, calorie count, and feeding instructions, and also read about the manufacturer.
A-List of 5 Low-Calorie Dog Treats:
1. Chicken Jerky:
If you want high-protein snacks which are made up of pure muscle meat, then Jerky dog treats are the best choice.
It is high in protein and contains only 3% fat. Jerky is totally free from antibiotics, hormones, additives, and preservatives.
It is appropriate for dogs of all sizes and ages. Most importantly, it is sourced and made in the USA.
2. Dehydrated Beef Heart: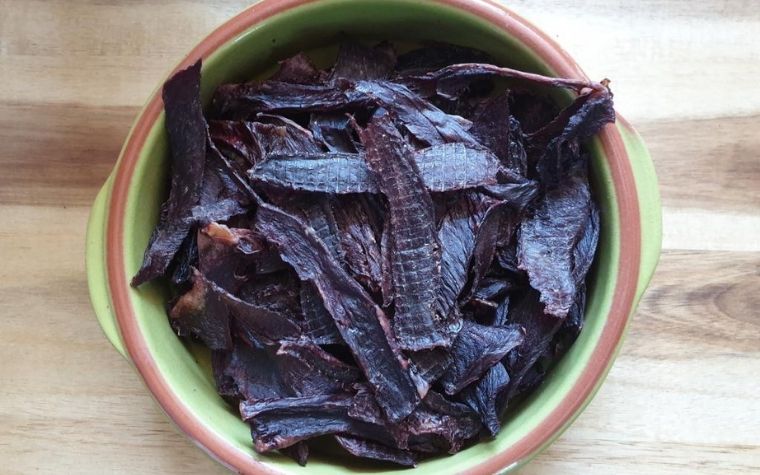 Dehydrated organ meat contains high-quality protein and multiple vitamins.
It also contains minerals such as iron, phosphorous, zinc, and selenium.
It's basically a protein-rich, lean treat that contains only 5% fat and it is suitable for all sizes and ages of dogs.
It is made in the USA and is free from additives, colors, or preservatives.
3. Alaskan Crunch:
Low-fat fish treats are best for dogs that have sensitivities to poultry or meat proteins. It is a healthy low-fat chew and contains only 1% fat.
It suits dogs of all sizes and life stages. This treat is best for dogs that have good dental and gum health.
It is good for dogs with sensitive stomachs and allergy issues. It does not contain any additives, colors, or preservatives. and it is sourced and made in the USA.
4. Beef Liver Bites:
These treats are good for small dogs and also for larger dogs while training. as they can swallow a treat without getting distracted.
It is high in protein and has only 3% fat. The best treat for dogs of all sizes, made in the United States. It is free from antibiotics, additives, and preservatives.
5. Dog Carrot Treat: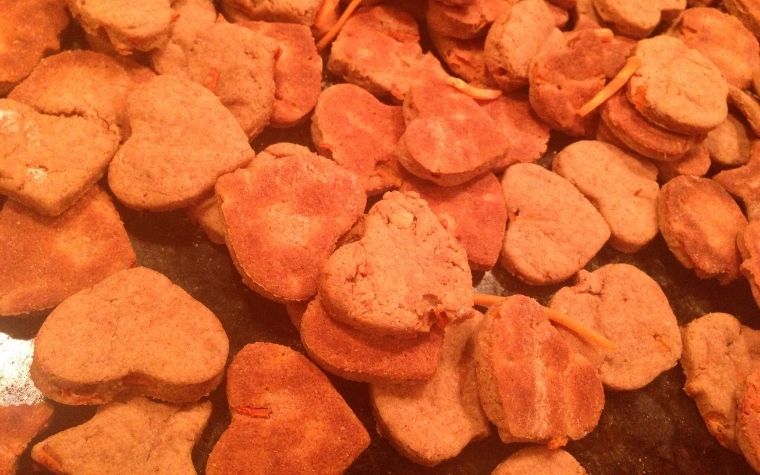 It is a low-calorie homemade dog treat that is healthy as well as tasty.
To make this treat, you should have 2 cups whole wheat flour, 1 cup finely shredded carrots, 1 egg white, 1/2 cup bone broth, 2 tbsp unsweetened applesauce, and 1 tbsp chia seeds.
Cooking Method:
For this, you should preheat the oven to 350F. After this, put the flour into a large bowl and add shredded carrots to the flour.
Now, you have to stir and wait till the carrots are mixed in. Then, add chia seeds to the flour and carrot mixture and stir it well. Here, you need to add an egg white and some applesauce to the mixture and blend it.
Here, you have to add bone broth. You have to make the dough by adding more liquid and flour. Now, you should turn the dough out onto the floured wax paper.
By using a knife, you should cut the treats into small shapes and bake them at 350F for 15 to 20 minutes.
Then, you have to remove it from the oven and cool it. Finally, store it in an airtight container in the refrigerator for up to one week.
Conclusion
We have mentioned a list of low-calorie dog treats which help in maintaining the health of your dog and protecting it from all kinds of allergies and digestive issues.
It is recommended that you always consult a veterinarian before you give a weight loss diet to your dog.
Also Read:- 5 Nutritious Homemade Cat Food Recipes