As a pet parent, it's your responsibility to keep your pet healthy and safe. Because domestic cats are unable to feed themselves, for their food they totally depend on their owner. So, like a good cat parent, you should choose the most nutritious food for your furry friend. Sometimes, it becomes difficult for cat parents to choose which cat food is best for their pets. In this case, if the pet has allergies, sensitivity, or a particular preference. In the market, there are so many brands of cat processed food available, but processed food cannot fully provide your cat with a balanced and nutritious diet, and in this situation, you can feed your cat with homemade cat food.
What is homemade cat food?
Homemade Cat food is considered to be the best option, as it has more nutritional value than commercially processed food.
When you cook food for your cat at home, you have total control over your cat's diet.
This food does not contain any artificial flavor or texture, which will harm your cat and cause severe allergies or digestive issues in its body.
At home, you can make food for your cat and add ingredients according to their body needs and preferences.
You can feed your cat both raw and cooked homemade cat food. For preparing raw and cooked homemade cat food, you require the following ingredients:
Egg Yolks
Water
Supplements
Meat
Organ
Bone
Fat
Normally, raw feeding is considered to be beneficial because while cooking, meat loses its nutrients. Cats are carnivores, so their diet must consist of animal protein.
The Benefits of Homemade Cat Food:
Commercial cat food which is available on the market contains ingredients that are not necessary for your cat's diet, like grains, vegetables, fruits, etc. So, when you cook food for your cat, you put in all the necessary ingredients that are necessary for your cat's health.
You should not keep homemade cat food in the freezer for a long time, as it loses its nutrients over time.
Raw homemade cat food has low carbohydrates, so it will prevent obesity and diabetes in your cat.
Raw food provides adequate protein, as it is not processed using heat.
Raw cat food provides adequate hydration, which protects your cat's kidneys.
A-List of 5 Homemade Cat Foods:
1. Chicken Stew:
This homemade cat food recipe is very easy to prepare, and you can use it for lunch and dinner.
Ingredients:
2 cups of brown rice.
8 carrots
Boneless chicken
Green Beans
Fresh green peas
Cooking Method:
You have to first wash the chicken inside and out. Then, keep it in a large stew pot, and then just cover it with water.
After this, cut the veggies into small pieces and then add all the veggies to the pot.
Just add 2 cups of brown rice to it.
Then, you have to cook the food till the chicken and veggies become soft enough to consume.
Here, you have to take the entire stew and then pour it into a large blender and just blend it.
In the end, cool down the mixture a bit and then serve it to your pet.
2. Chicken And Rice: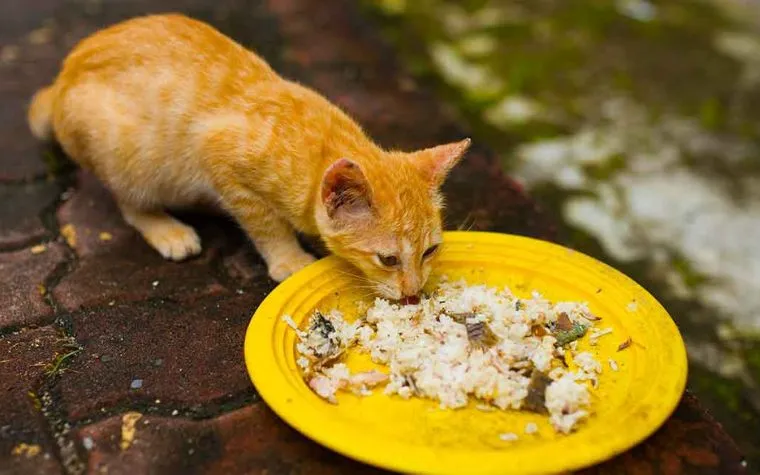 Ingredients:
3 oz of baked dark chicken meat.
1/4 cup of boiled potato
1 tablespoon of olive oil.
1/4 cup of white rice, boiled
Rx Vitamins: Nutritional Support
Cooking Method:
You have to mix all the ingredients together in the bowl, and then the meal is ready.
After serving, store the leftovers in the refrigerator in an airtight container.
3. Rabbit and Poultry Recipes
Ingredients:
A whole carcass rabbit weighing between 2 and 2.25 pounds.
2 eggs
Boneless chicken or turkey thighs (75-100 g)
10,000mg of fish oil
1 quart of water
1 teaspoon iodized light salt
400 IU vitamin E
Taurine 2,000 mg
50mg vitamin B complex
Cooking Method:
First, grind the rabbit carcass, and then you have to chop the poultry into small chunks.
After that, bake the chicken or turkey thighs for 15 to 20 minutes at 350°F, leaving half of the meat raw.
Then, put the dry supplements in a small bowl and just mix them well.
Now, you have to add the fish oil, egg yolks, and water in order to create a slurry.
Here, just transfer the ground mixture to a large bowl and then mix in the slurry.
In the end, portion out the mixture and then freeze it.
4. Milk and Eggs:
This is your homemade kitten formula for your kitties. This recipe is very easy and properly satisfies your kitties.
Ingredients:
2 egg yolks.
8 ounces of homogenized whole milk.
1 teaspoon salad dressing
1 teaspoon liquid infant vitamins
Cooking Method:
First, you should mix all the ingredients in a container.
After this, you should store the leftovers in the freezer.
5. Salmon Cat Treats:
This is the homemade cat treat that your kitty loves to eat.
Ingredients:
2 cups of flour.
10 ounces canned salmon
1 egg
Cooking Method:
First, you have to gently beat the egg.
Now, you have to pour the salmon into a blender and then blend until it becomes smooth.
Then, pour all the ingredients into a mixer and mix till it becomes a smooth dough.
After this, you should keep the dough at about a 1/4-inch thickness.
Next, by using a knife, you have to cut out your cat's treats.
Finally, you should bake the treats at 350 degrees for 15 to 20 minutes.
Conclusion
This is a list of 5 homemade cat foods that will give your cat a balanced and nutritious diet and protect your furry friend from harmful diseases.
Also Read:- Facial Swelling in Dogs Can Be an Early Sign of a Serious Health Issue