This is a list of truly good and intriguing films that are about dogs or include dogs as important characters giving you all the oohs and aahs, even leaving you sobbing and sad for hours after the watch. In this blog, we inform you about what's so trendy about the top 10 dog movies of 2023 that everyone went crazy over it.
These movies are going to make you think a bit differently and tenderly about your dog. A must-watch for animal lovers, these Top 10 dog movies of 2023 will make tails wag!
Here's our list of the finest dog movies to watch with your family—and, of course, the dogs.
Also Read:- Top 10 Affectionate Dog Breeds That Are Best For Your Family
1. Togo
Release Date:- December 20, 2019
IMDb Rating:- 8.0/10
Starring William Dafoe Julliane Nicholson and directed by Ericson Core, this beautifully cinematographed Disney movie has everything you want in a dog film.
Based on the true events of the late 1920 health crisis across Alaska, the movie shows a fierce relationship of trust, intelligence, and teamwork between Leonhard (played by William Dafoe) and his adopted Siberian husky Togo.
The movie showcases the transportation of diphtheria antitoxin across Alaska through dog sledge relays.
The movie gives the long-lost credits of bravery to Togo, who was overshadowed in the past, hence making it in our list of Top 10 Dog Movies Of 2023.
It's a memorable, heart-melting, and action-packed watch that will leave visual imprints in your heart. The whole time you will be on the edge of your seat rooting for Togo.
2. Isle of Dogs
Release Date:- April 13, 2018
IMDb Rating:- 7.8/10
Next on our list of top Top 10 Dog movies of 2023 is an animated science-fiction comedy, Isle of dogs. Written, produced, and directed by Wes Anderson.
The movie shows a fictional Japanese city that is ruled by a cat-loving mayor who has decided that all dogs must be deported to a rubbish island and forced to fend for themselves after an outbreak of canine influenza.
The plot turns when after a few months Atari, the nephew of the mayor, hijacks a plane to rescue his dog Spots from the island. The movie is told from both dog and human aspects.
Isle of dogs is both hilarious and sad. Not only does it show the bond of love, true friendship, and faith between the pet and owner but it also shows the true nature of politics and its real-world application.
3. The Art of Racing in The Rain
Release Date:- August 9, 2019
IMDb Rating:- 7.6/10
Directed by Simon Curtis and starring Milo Ventimiglia and Amanda Seyfried, The Art of Racing in The Rain follows Enzo, a family dog with a near-human soul and a philosopher's intellect, assesses his existence by learning from his human, Denny Swift, a car racer.
This will be a favourite among dog lovers since it tells the story from the perspective of the dog Enzo and puts you in emotional turmoil.
4. A Dog's Journey
Release Date:- May 17, 2019
IMDb Rating:- 7.4/10
One of the sweetest dog movies you'll see is A Dog's Journey. Based on a novel by the same title, this movie will leave you in tears.
Starring Bryce Dallas Howard and Ashley Judd follow the story of Bailey, who reunites with her owner after a journey of 400 miles.
In A Dog's Journey, the sequel to A Dog's Purpose, all dogs go to paradise.
They gambol around a bright wheat-filled field of dreams after several heart-wrenching exits before being resurrected as yet another version of Bailey (voiced by Josh Gad).
This is a story of canine fidelity throughout the centuries, which is going to leave you in a tear shed. It's heartwarming and with the narration of Bailey's thoughts, who doesn't want to know what a dog thinks, right?
5. A Dog's Purpose
Release Date:- January 27, 2017
IMDb Rating:- 7.2/10
The top 10 Dog movies of the 2023 list can not be completed without mentioning A dog's Purpose. Directed by Lasse Hallstrom and based on the 2010 novel by the same title this movie is a must-watch.
The movie does a fantastic job of evoking raw emotions in a short period of time. The story follows A dog that has four lifetimes, each with a different owner and at different times.
There are four stories within one story, reminding us that a dog loves humans unconditionally and aids those who are in need. It portrays the harsh reality and real-life issues consulting the well-being of the dog.
Also Read:- Fascinating and Amazing Facts About Dogs' Tongue That Dog Lovers Must Know
6. The Call of the Wild
Release Date:- February 21, 2020
IMDb Rating:- 6.7/10
If you love nature, wilderness, adventure, plus a CGI dog, you are going to love next on our Top 10 Dog movies of 2023 list, The call of the wild.
It's based on Jack London's classic 1903 novel of the same title, featuring Harrison Ford. The movie revolves around the journey of a dog named Buck and John Thornton (played by Ford Harrison).
Buck was abducted one night from California and shipped to Yukon.
Throughout the movie, he experiences a lot of conflicts, passing from owner to owner and overcoming it, making your heart melt.
Even though Buck isn't a natural dog in the movie and has no lines of thought, still you'll laugh, you'll shed tears, and feel the emotions that he is going through.
7. Dog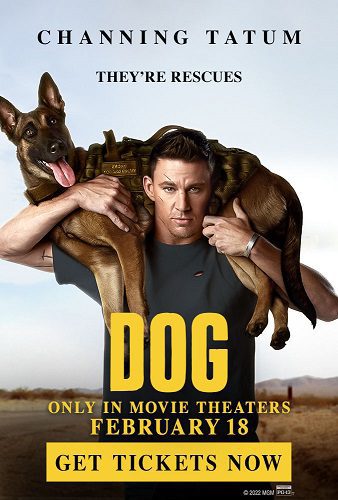 Release Date:- 18 February 2022
IMDb Rating:- 6.8/10
A movie about a dog but much more: featuring and Co-directed by Channing Tatum, this serious comedy is going to tap on all your emotions.
A very recent release of 2023, Dog, will take you on a road trip like never before. Jackson Briggs (played by Channing Tatum), an army ranger, is given the task of bringing temperamental Dog Lulu to attend her handler's funeral in Arizona.
The whole journey will show you the real aftermath of war on veterans, both humans and canines, their losses, anxiety, and post-traumatic stress disorder. Both Lulu and Briggs don't get along at the start but, by the end, bring the best out of each other.
8. Alpha
Release Date:- November 13, 2018
IMDb Rating:- 6.7/10
Taking you on an epic adventure, Alpha takes place during the last Ice Age.
A young guy Keda (played by Kodi Smit), is injured and left for dead while on his first hunt with his tribe's most elite squad.
He must learn to survive and navigate the harsh and unforgiving terrain after waking up broken and alone.
After hesitantly taming a lone wolf abandoned by its family, the two learn to rely on each other and become unusual companions, overcoming endless hazards and tremendous obstacles to make it home before the harsh winter approaches.
The scenery is beautiful, giving you all the ice age drama and painting a harmony between human nature and animals, making it to our Top 10 Dog movies of 2023 for the motivational and inspiring end.
9. A Dog's Way Home
Release date:- January 11, 2019
IMDb Rating:- 6.7/10
On our list of Top 10 Dog movies of 2023 is a family adventure movie based on a novel by the same name, A dog's way home.
Starring Jonah Hauer-King, who plays Lucas, rescues Bella as a puppy from a run-down house. Lucas decides to adopt her to provide her with a safe home, and the two form a close, loving attachment.
Bella's idyllic life is cut short when an animal control officer determines that she is not allowed to dwell in Denver because pit bulls are prohibited there.
Bella is sent 400 miles away from Lucas to live. Bella, on the other hand, flees to begin an exciting trip back to Lucas.
The love and determination of Bella for Lucas will swoon you.
10. The Secret Life of Pets
Release Date:- June 7, 2019
IMDb Rating:- 6.5/10
Have you ever wondered what your pet is up to when you are not home? This animated family comedy will make you wonder about that.
With an amazing voice cast, The secret life of pets shows the life of a pet when the owner is not at their house.
You are going to find different kinds of animals, making it a more enjoyable family watch. This kind-hearted, adorable story starts when Max's owner, Katie, brings another pet dog into the house.
They both find their differences and overcome them when they find their owner Katie is in danger.
It's on our Top 10 Dog movies of 2023 list as a movie that gives you a theme to discuss with your family and kids.
Even if your dog isn't going to star in the next Hollywood movie or walk down the red carpet any time soon, you may still treat them like one.
What are your thoughts on this list? What are some of your favourite dog films? Let us know in the comment section below.
Also Read:- Healthy Low Calorie Dog Treats to Reduce your Dog's Obesity